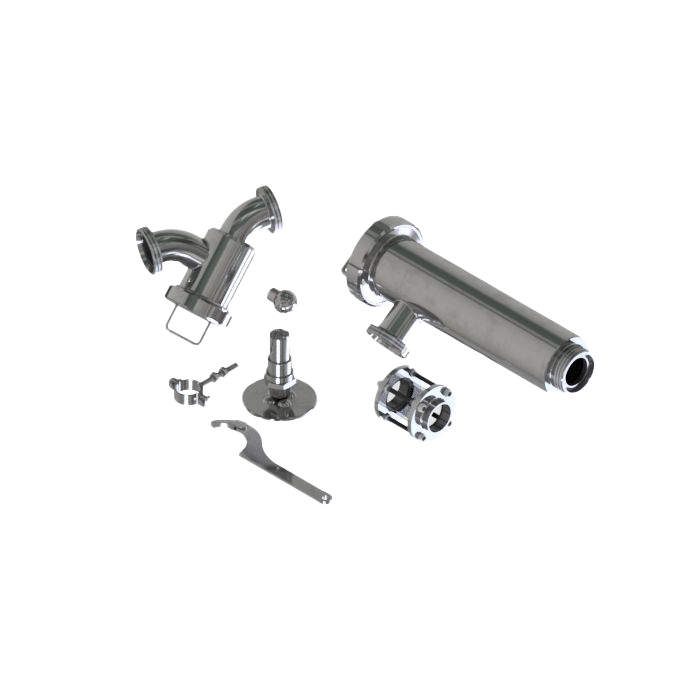 Accessories

Angular filter
M&S-angular filters are used for the filtration of pumpable media in a pipeline. Unwanted components are filtered out so that downstream components are protected. Basically, they consist of a cylindrical housing with a cylindrical strainer insert made of perforated plate, gauze or slotted tube.
Sight glasses and –lanterns
M&S sight glasses and lanterns (cylinder sight glasses) are used for the visual observation of fluids (liquid media) in hygienic systems, e.g. in pipelines, in containers and apparatus.
Tank equipment
M&S tank equipment are used to equip containers, apparatus and tank vehicles.
In addition to valves for maintaining a gas inlet pressure (CO2) with protection against impermissible overpressure as well as for withdrawing small quantities of liquids, they also include components for indicating the filling level and for cleaning.
Installation material
M&S installation material is used in plant construction for the installation of pipeline sections and the assembly of tanks, machines and apparatus.
In addition to the actual pipeline construction with the M&S pipe fittings and connecting parts, the necessary auxiliary materials for fastening and expanding the pipelines as well as the facing for openings are included here.