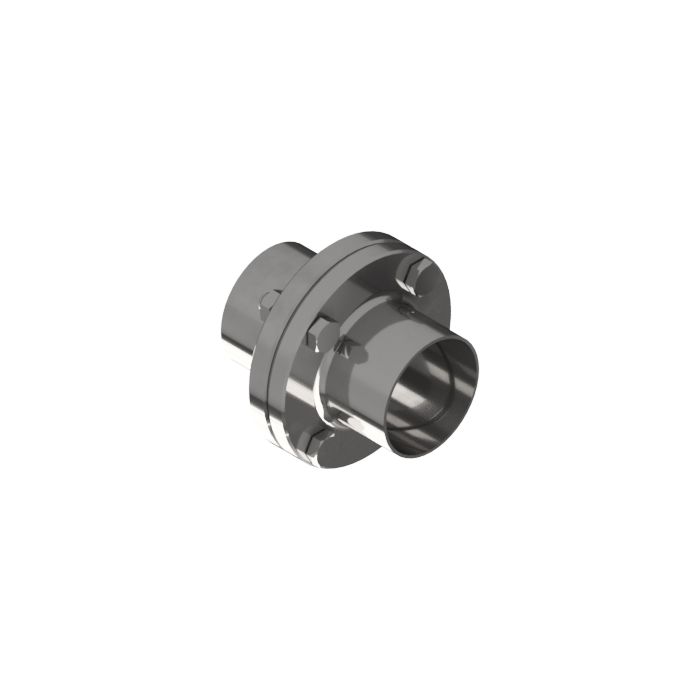 Hygienic fittings – flange connections
M&S flange connections DIN 11864-2 and DIN 11853-2 are used for detachable connections in pipelines and for connecting machines, apparatus and containers in aseptic and hygienic processes. Due to their design, they are well suited for pressurised pipelines and for connections that are exposed to vibration.
The gasket geometry of both designs is identical, but they differ in construction length and surface finish. The flange connections according to DIN 11864-2 have a longer welding end. This is for orbital welding and is mainly used in plants of the chemical and pharmaceutical industry. The components according to DIN 11853-2 have shorter welding ends and are mainly used in plants of the food industry.
They are manufactured in accordance with the applicable standards and are basically made of forged primary material at M&S.
Areas of application:
As a detachable connection for piping systems as well as for the connection of machines, apparatus and containers in plants with aseptic and very high hygienic requirements.
For pressurised pipelines and connections that are subject to movement or vibration
For easier disassembly of fittings, valves and other plant components that are integrated in rigid piping
As self-centring connecting elements in piggable pipelines

| M&S Artikelnummer | Bezeichnung | DN | A | B | C | D | E | Bestand | Preis € | Aktion |
| --- | --- | --- | --- | --- | --- | --- | --- | --- | --- | --- |
| 101340101300 | HyCom1-FLANGE CONNECTION DN 10 1.4307 Ra0,8-H2 DIN11853F EPDM | | | | | | | | €65.40 | |
| 101340103300 | HyCom1-FLANGE CONNECTION DN 10 1.4404 Ra0,8-H2 DIN11853F EPDM | | | | | | | | €67.40 | |
| 101340151300 | HyCom1-FLANGE CONNECTION DN 15 1.4307 Ra0,8-H2 DIN11853F EPDM | | | | | | | | €66.80 | |
| 101340153300 | HyCom1-FLANGE CONNECTION DN 15 1.4404 Ra0,8-H2 DIN11853F EPDM | | | | | | | | €68.80 | |
| 101340201300 | HyCom1-FLANGE CONNECTION DN 20 1.4307 Ra0,8-H2 DIN11853F EPDM | | | | | | | | €71.05 | |
| 101340203300 | HyCom1-FLANGE CONNECTION DN 20 1.4404 Ra0,8-H2 DIN11853F EPDM | | | | | | | | €73.05 | |
| 101340251300 | HyCom1-FLANGE CONNECTION DN 25 1.4307 Ra0,8-H2 DIN11853F EPDM | | | | | | | | €54.05 | |
| 101340253300 | HyCom1-FLANGE CONNECTION DN 25 1.4404 Ra0,8-H2 DIN11853F EPDM | | | | | | | | €56.95 | |
| 101340321300 | HyCom1-FLANGE CONNECTION DN 32 1.4307 Ra0,8-H2 DIN11853F EPDM | | | | | | | | €62.05 | |
| 101340323300 | HyCom1-FLANGE CONNECTION DN 32 1.4404 Ra0,8-H2 DIN11853F EPDM | | | | | | | | €63.15 | |
| 101340401300 | HyCom1-FLANGE CONNECTION DN 40 1.4307 Ra0,8-H2 DIN11853F EPDM | | | | | | | | €60.55 | |
| 101340403300 | HyCom1-FLANGE CONNECTION DN 40 1.4404 Ra0,8-H2 DIN11853F EPDM | | | | | | | | €62.45 | |
| 101340501300 | HyCom1-FLANGE CONNECTION DN 50 1.4307 Ra0,8-H2 DIN11853F EPDM | | | | | | | | €63.20 | |
| 101340503300 | HyCom1-FLANGE CONNECTION DN 50 1.4404 Ra0,8-H2 DIN11853F EPDM | | | | | | | | €67.10 | |
| 101340651300 | HyCom1-FLANGE CONNECTION DN 65 1.4307 Ra0,8-H2 DIN11853F EPDM | | | | | | | | €78.50 | |
| 101340653300 | HyCom1-FLANGE CONNECTION DN 65 1.4404 Ra0,8-H2 DIN11853F EPDM | | | | | | | | €85.00 | |
| 101340801300 | HyCom1-FLANGE CONNECTION DN 80 1.4307 Ra0,8-H2 DIN11853F EPDM | | | | | | | | €108.70 | |
| 101340803300 | HyCom1-FLANGE CONNECTION DN 80 1.4404 Ra0,8-H2 DIN11853F EPDM | | | | | | | | €118.90 | |
| 101341001300 | HyCom1-FLANGE CONNECTION DN100 1.4307 Ra0,8-H2 DIN11853F EPDM | | | | | | | | €127.10 | |
| 101341003300 | HyCom1-FLANGE CONNECTION DN100 1.4404 Ra0,8-H2 DIN11853F EPDM | | | | | | | | €140.90 | |
| 101341251300 | HyCom1-FLANGE CONNECTION DN125 1.4307 Ra0,8-H2 DIN11853F EPDM | | | | | | | | €449.40 | |
| 101341253300 | HyCom1-FLANGE CONNECTION DN125 1.4404 Ra0,8-H2 DIN11853F EPDM | | | | | | | | €489.40 | |
| 101341501300 | HyCom1-FLANGE CONNECTION DN150 1.4307 Ra0,8-H2 DIN11853F EPDM | | | | | | | | €626.30 | |
| 101341503300 | HyCom1-FLANGE CONNECTION DN150 1.4404 Ra0,8-H2 DIN11853F EPDM | | | | | | | | €690.30 | |