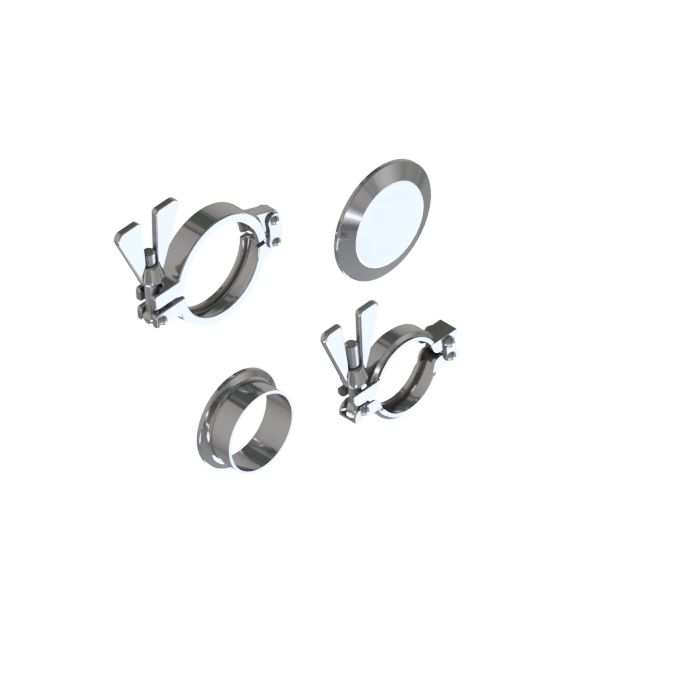 Clamp connections
M&S clamp connections are used for the detachable connection of pipelines as well as for the connection of machines, apparatus and containers. They consist of two clamp ferrules, a sealing element and a clamp closure.
Depending on the operational requirements, the operating conditions and the hygienic demand, a suitable and appropriate clamp connection must be selected. They are manufactured in accordance with the applicable standards and are always made of forged primary material at M&S.
Usage:
Easily detachable connection by hand in hygienic piping systems and for connecting machines, apparatus and containers.
For easier disassembly of fittings, valves and other system parts.

| M&S Artikelnummer | Bezeichnung | DN | A | B | C | D | E | Bestand | Preis € | Aktion |
| --- | --- | --- | --- | --- | --- | --- | --- | --- | --- | --- |
| 181100253012 | TC ADAPTER DN25-40/1-1,5" 316L BL. FL. 50,5-G0,5" | | | | | | | | €36.20 | |
| 181100253034 | TC ADAPTER DN25-40/1-1,5" 316L BL. FL. 50,5-G0,75" | | | | | | | | €35.45 | |
| 181100253100 | TC ADAPTER DN25-40/1-1,5" 316L BL. FL. 50,5-G1" | | | | | | | | €34.55 | |
| 182100253012 | TC ADAPTER DN25-40/1-1,5" 316L BL. FL. 50,5-G0,5" | | | | | | | | €37.85 | |
| 182100253034 | TC ADAPTER DN25-40/1-1,5" 316L BL. FL. 50,5-G0,75" | | | | | | | | €37.10 | |
| 182100253100 | TC ADAPTER DN25-40/1-1,5" 316L BL. FL. 50,5-G1" | | | | | | | | €36.15 | |
| 184000061 | FERRULE TC DIN32676-KK DN 6 304 BL. FLANGE 25 L12,7 | | | | | | | | €10.80 | |
| 184000062 | FERRULE TC DIN32676-KK DN 6 304 MAT FLANGE 25 L12,7 | | | | | | | | €11.40 | |
| 184000063 | FERRULE TC DIN32676-KK DN 6 316L BL. FLANGE 25 L12,7 | | | | | | | | €12.85 | |
| 184000064 | FERRULE TC DIN32676-KK DN 6 316L MAT FLANGE 25 L12,7 | | | | | | | | €13.45 | |
| 184000081 | FERRULE TC DIN32676-KK DN 8 304 BL. FLANGE 25 L12,7 | | | | | | | | €10.80 | |
| 184000082 | FERRULE TC DIN32676-KK DN 8 304 MAT FLANGE 25 L12,7 | | | | | | | | €11.40 | |
| 184000083 | FERRULE TC DIN32676-KK DN 8 316L BL. FLANGE 25 L12,7 | | | | | | | | €12.85 | |
| 184000084 | FERRULE TC DIN32676-KK DN 8 316L MAT FLANGE 25 L12,7 | | | | | | | | €13.45 | |
| 184000101 | FERRULE TC DIN32676-KK DN 10 304 BL. FLANGE 34 L18 | | | | | | | | €11.80 | |
| 184000102 | FERRULE TC DIN32676-KK DN 10 304 MAT FLANGE 34 L18 | | | | | | | | €12.40 | |
| 184000103 | FERRULE TC DIN32676-KK DN 10 316L BL. FLANGE 34 L18 | | | | | | | | €13.85 | |
| 184000104 | FERRULE TC DIN32676-KK DN 10 316L MAT FLANGE 34 L18 | | | | | | | | €14.45 | |
| 184000151 | FERRULE TC DIN32676-KK DN 15 304 BL. FLANGE 34 L18 | | | | | | | | €11.80 | |
| 184000152 | FERRULE TC DIN32676-KK DN 15 304 MAT FLANGE 34 L18 | | | | | | | | €12.40 | |
| 184000153 | FERRULE TC DIN32676-KK DN 15 316L BL. FLANGE 34 L18 | | | | | | | | €13.85 | |
| 184000154 | FERRULE TC DIN32676-KK DN 15 316L MAT FLANGE 34 L18 | | | | | | | | €14.45 | |
| 184000201 | FERRULE TC DIN32676-KK DN 20 304 BL. FLANGE 34 L18 | | | | | | | | €11.80 | |
| 184000202 | FERRULE TC DIN32676-KK DN 20 304 MAT FLANGE 34 L18 | | | | | | | | €12.40 | |