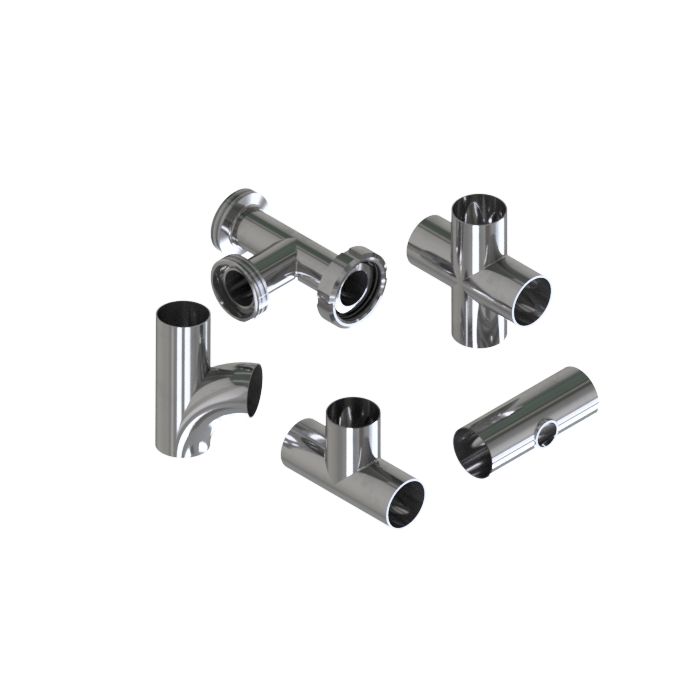 Tees and crosses
M&S tees and crosses are used for flow distribution in hygienic pipe sections in the food, chemical, cosmetic and pharmaceutical industries.
For aseptic applications, tees and crosses are available in orbital weldable version and in different hygienic classes.
Depending on the area of application, the operating conditions and the hygienic requirement, the right version, a suitable material and the required quality must be selected.

Usage:
Flow splitting in pipe sections for product and energy piping.
Versions available for use in piggable pipeline sections.
Construction of pipe structures, racks, railings and handrails.

| M&S Artikelnummer | Bezeichnung | DN | A | B | C | D | E | Bestand | Preis € | Aktion |
| --- | --- | --- | --- | --- | --- | --- | --- | --- | --- | --- |
| 411100101 | WELDING TEE SHORT 12x1,5 DN 10 304/304L POL. | | | | | | | | €12.50 | |
| 411100101001 | WELDING TEE SHORT 12x1,5 DN 10 304/304L MB | | | | | | | | €10.90 | |
| 411100103 | WELDING TEE SHORT 12x1,5 DN 10 316L POL. | | | | | | | | €14.80 | |
| 411100103001 | WELDING TEE SHORT 12x1,5 DN 10 316L MB | | | | | | | | €12.45 | |
| 411100151 | WELDING TEE SHORT 18x1,5 DN 15 304/304L POL. | | | | | | | | €11.25 | |
| 411100151001 | WELDING TEE SHORT 18x1,5 DN 15 304/304L MB | | | | | | | | €9.65 | |
| 411100153 | WELDING TEE SHORT 18x1,5 DN 15 316L POL. | | | | | | | | €14.25 | |
| 411100153001 | WELDING TEE SHORT 18x1,5 DN 15 316L MB | | | | | | | | €11.35 | |
| 411100201 | WELDING TEE SHORT 22x1,5 DN 20 304/304L POL. | | | | | | | | €10.60 | |
| 411100201001 | WELDING TEE SHORT 22x1,5 DN 20 304/304L MB | | | | | | | | €9.30 | |
| 411100203 | WELDING TEE SHORT 22x1,5 DN 20 316L POL. | | | | | | | | €13.70 | |
| 411100203001 | WELDING TEE SHORT 22x1,5 DN 20 316L MB | | | | | | | | €10.90 | |
| 411100251 | WELDING TEE SHORT 28x1,5 DN 25 304/304L POL. | | | | | | | | €9.50 | |
| 411100251001 | WELDING TEE SHORT 28x1,5 DN 25 304/304L MB | | | | | | | | €7.65 | |
| 411100253 | WELDING TEE SHORT 28x1,5 DN 25 316L POL. | | | | | | | | €12.40 | |
| 411100253001 | WELDING TEE SHORT 28x1,5 DN 25 316L MB | | | | | | | | €9.50 | |
| 411100321 | WELDING TEE SHORT 34x1,5 DN 32 304/304L POL. | | | | | | | | €11.00 | |
| 411100321001 | WELDING TEE SHORT 34x1,5 DN 32 304/304L MB | | | | | | | | €9.30 | |
| 411100323 | WELDING TEE SHORT 34x1,5 DN 32 316L POL. | | | | | | | | €13.15 | |
| 411100323001 | WELDING TEE SHORT 34x1,5 DN 32 316L MB | | | | | | | | €10.95 | |
| 411100401 | WELDING TEE SHORT 40x1,5 DN 40 304/304L POL. | | | | | | | | €11.70 | |
| 411100401001 | WELDING TEE SHORT 40x1,5 DN 40 304/304L MB | | | | | | | | €9.20 | |
| 411100403 | WELDING TEE SHORT 40x1,5 DN 40 316L POL. | | | | | | | | €15.05 | |
| 411100403001 | WELDING TEE SHORT 40x1,5 DN 40 316L MB | | | | | | | | €12.10 | |