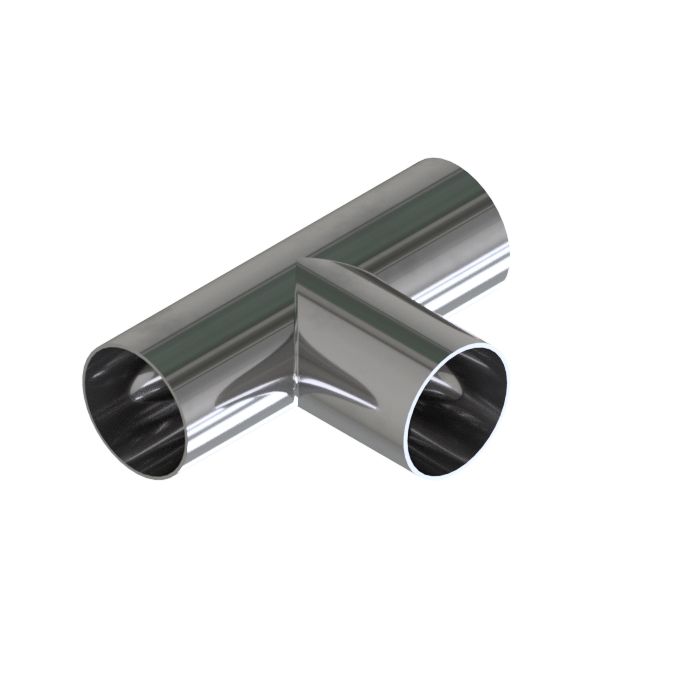 Hygienic fittings - tees
M&S tees DIN 11865 are used for flow distribution in hygienic piping systems for aseptic processes in plants, machines and apparatus in the cosmetic, pharmaceutical and chemical industries.
They are for orbital welding and are manufactured with different, high-quality inside and outside surfaces.

M&S manufactures two continuous product lines in series, the PharmCom range (Pharmaceutical Components) in material 1.4435 and the HyCom range (Hygienic Components) in material 1.4404 and keeps these in stock in the various hygienic classes.
Areas of application:
or flow distribution in piping systems for aseptic processes in plants, machines and apparatus with the highest demands on hygienic properties.
Versions available for use in piggable pipe sections
| M&S Artikelnummer | Bezeichnung | DN | A | B | C | D | E | Bestand | Preis € | Aktion |
| --- | --- | --- | --- | --- | --- | --- | --- | --- | --- | --- |
| 104010103000 | PharmCom0-TEE LONG DN 10 1.4435 Ra0,8/1,6-H2 11865-T-A | | | | | | | | €53.45 | |
| 104010104000 | PharmCom1-TEE LONG DN 10 1.4435 Ra0,8-H3 DIN11865-T-A | | | | | | | | €72.60 | |
| 104010105000 | PharmCom2-TEE LONG DN 10 1.4435 Ra0,4-H4 DIN11865-T-A | | | | | | | | €111.30 | |
| 104010108000 | HyCom1-TEE LONG DN 10 1.4404 Ra0,8-H3 DIN11865-T-A | | | | | | | | €61.75 | |
| 104010109000 | HyCom2-TEE LONG DN 10 1.4404 Ra0,4-H4 DIN11865-T-A | | | | | | | | €94.65 | |
| 104010153000 | PharmCom0-TEE LONG DN 15 1.4435 Ra0,8/1,6-H2 11865-T-A | | | | | | | | €54.45 | |
| 104010154000 | PharmCom1-TEE LONG DN 15 1.4435 Ra0,8-H3 DIN11865-T-A | | | | | | | | €73.45 | |
| 104010155000 | PharmCom2-TEE LONG DN 15 1.4435 Ra0,4-H4 DIN11865-T-A | | | | | | | | €112.35 | |
| 104010158000 | HyCom1-TEE LONG DN 15 1.4404 Ra0,8-H3 DIN11865-T-A | | | | | | | | €62.45 | |
| 104010159000 | HyCom2-TEE LONG DN 15 1.4404 Ra0,4-H4 DIN11865-T-A | | | | | | | | €95.50 | |
| 104010203000 | PharmCom0-TEE LONG DN 20 1.4435 Ra0,8/1,6-H2 11865-T-A | | | | | | | | €55.20 | |
| 104010204000 | PharmCom1-TEE LONG DN 20 1.4435 Ra0,8-H3 DIN11865-T-A | | | | | | | | €73.85 | |
| 104010205000 | PharmCom2-TEE LONG DN 20 1.4435 Ra0,4-H4 DIN11865-T-A | | | | | | | | €113.40 | |
| 104010208000 | HyCom1-TEE LONG DN 20 1.4404 Ra0,8-H3 DIN11865-T-A | | | | | | | | €62.80 | |
| 104010209000 | HyCom2-TEE LONG DN 20 1.4404 Ra0,4-H4 DIN11865-T-A | | | | | | | | €96.40 | |
| 104010253000 | PharmCom0-TEE LONG DN 25 1.4435 Ra0,8/1,6-H2 11865-T-A | | | | | | | | €56.75 | |
| 104010254000 | PharmCom1-TEE LONG DN 25 1.4435 Ra0,8-H3 DIN11865-T-A | | | | | | | | €75.30 | |
| 104010255000 | PharmCom2-TEE LONG DN 25 1.4435 Ra0,4-H4 DIN11865-T-A | | | | | | | | €114.30 | |
| 104010258000 | HyCom1-TEE LONG DN 25 1.4404 Ra0,8-H3 DIN11865-T-A | | | | | | | | €64.05 | |
| 104010259000 | HyCom2-TEE LONG DN 25 1.4404 Ra0,4-H4 DIN11865-T-A | | | | | | | | €97.20 | |
| 104010323000 | PharmCom0-TEE LONG DN 32 1.4435 Ra0,8/1,6-H2 11865-T-A | | | | | | | | €62.60 | |
| 104010324000 | PharmCom1-TEE LONG DN 32 1.4435 Ra0,8-H3 DIN11865-T-A | | | | | | | | €81.30 | |
| 104010325000 | PharmCom2-TEE LONG DN 32 1.4435 Ra0,4-H4 DIN11865-T-A | | | | | | | | €122.55 | |
| 104010328000 | HyCom1-TEE LONG DN 32 1.4404 Ra0,8-H3 DIN11865-T-A | | | | | | | | €69.15 | |