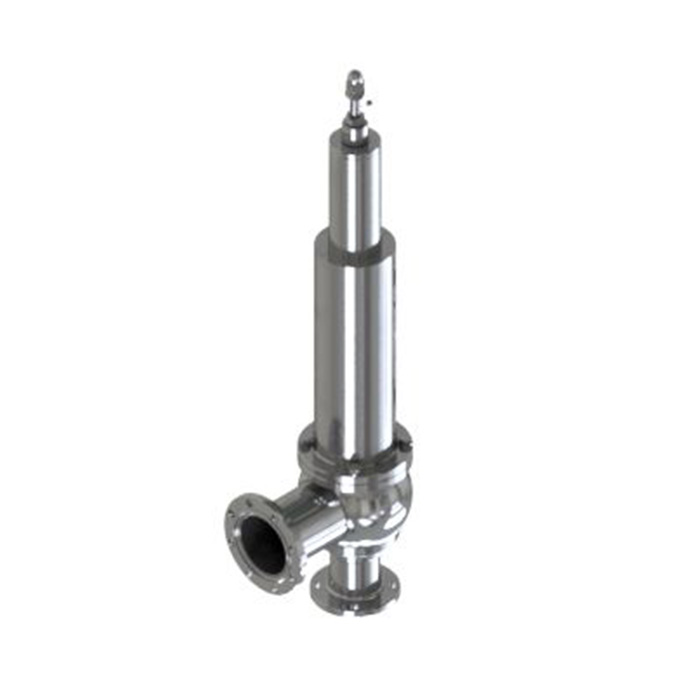 M&S safety valves
M&S spring-loaded safety valves are TÜV component-tested valves that are used to protect hygienic pressure-bearing systems, such as pressure vessels or piping systems, in the event of an impermissible increase in pressure. When the set pressure is reached is reached, the valve opens, thereby reducing the system pressure. After the overpressure has been reduced, the valve closes and the system can continue to be operated safely.
The M&S spring-loaded safety valves comply with the specification of the Pressure Equipment Directive (PED 2014/68/EU) as a safety device for pressure limitation or pressure relief in production systems.
M&S manufactures a wide range of valve types and sizes that can be selected according to the requirements. Optionally, they can be equipped with lead sealing, pneumatic lifting, CIP device, position feedback and valve heating.
Areas of application:
For relief in case of impermissible pressure increase in containers and piping systems with normal and higher demands on cleanability.
For non-toxic gases, steams and neutral, non-adhesive liquids (fluids group II).

HyCom spring-loaded safety valve (HyCom FSV)
Spring-loaded safety valve type 2000 (FSV 2000)

For non-toxic gases and steams

Spring-loaded safety valve type 019

For non-adhesive liquids

Spring-loaded safety valve type 020
| M&S Artikelnummer | Bezeichnung | DN | A | B | C | D | E | Bestand | Preis € | Aktion |
| --- | --- | --- | --- | --- | --- | --- | --- | --- | --- | --- |
| 109010258377 | HyCom1-SAFETY VALVE NF DN 25 1.4404 Ra0,8 EPDM MAN. CON. | | | | | | | | €1,122.95 | |
| 109010258477 | HyCom1-SAFETY VALVE NF DN 25 1.4404 Ra0,8 FKM MAN. CON. | | | | | | | | €0.00 | |
| 109010408377 | HyCom1-SAFETY VALVE NF DN 40 1.4404 Ra0,8 EPDM MAN. CON. | | | | | | | | €1,271.20 | |
| 109010408477 | HyCom1-SAFETY VALVE NF DN 40 1.4404 Ra0,8 FKM MAN. CON. | | | | | | | | €0.00 | |
| 109010508377 | HyCom1-SAFETY VALVE NF DN 50 1.4404 Ra0,8 EPDM MAN. CON. | | | | | | | | €1,362.60 | |
| 109010508477 | HyCom1-SAFETY VALVE NF DN 50 1.4404 Ra0,8 FKM MAN. CON. | | | | | | | | €0.00 | |
| 109010658377 | HyCom1-SAFETY VALVE NF DN 65 1.4404 Ra0,8 EPDM MAN. CON. | | | | | | | | €1,858.45 | |
| 109010658477 | HyCom1-SAFETY VALVE NF DN 65 1.4404 Ra0,8 FKM MAN. CON. | | | | | | | | €0.00 | |
| 109010808377 | HyCom1-SAFETY VALVE NF DN 80 1.4404 Ra0,8 EPDM MAN. CON. | | | | | | | | €2,351.90 | |
| 109010808477 | HyCom1-SAFETY VALVE NF DN 80 1.4404 Ra0,8 FKM MAN. CON. | | | | | | | | €0.00 | |
| 109021128377 | HyCom1-SAFE. VALVE NF1,5"/DN25 1.4404 Ra0,8 EPDM MAN. CON. | | | | | | | | €1,271.20 | |
| 109021128477 | HyCom1-SAFE. VALVE NF1,5"/DN25 1.4404 Ra0,8 FKM MAN. CON. | | | | | | | | €0.00 | |
| 109022008377 | HyCom1-SAFETY VALVE NF 2"/DN40 1.4404 Ra0,8 EPDM MAN. CON. | | | | | | | | €1,362.60 | |
| 109022008477 | HyCom1-SAFETY VALVE NF 2"/DN40 1.4404 Ra0,8 FKM MAN. CON. | | | | | | | | €0.00 | |
| 109022128377 | HyCom1-SAFE. VALVE NF2,5"/DN50 1.4404 Ra0,8 EPDM MAN. CON. | | | | | | | | €1,858.45 | |
| 109022128477 | HyCom1-SAFE. VALVE NF2,5"/DN50 1.4404 Ra0,8 FKM MAN. CON. | | | | | | | | €0.00 | |
| 109023008377 | HyCom1-SAFETY VALVE NF 3"/DN65 1.4404 Ra0,8 EPDM MAN. CON. | | | | | | | | €2,351.90 | |
| 109023008477 | HyCom1-SAFETY VALVE NF 3"/DN65 1.4404 Ra0,8 FKM MAN. CON. | | | | | | | | €0.00 | |
| 109024008377 | HyCom1-SAFETY VALVE NF 4"/DN80 1.4404 Ra0,8 EPDM MAN. CON. | | | | | | | | €4,535.65 | |
| 109024008477 | HyCom1-SAFETY VALVE NF 4"/DN80 1.4404 Ra0,8 FKM MAN. CON. | | | | | | | | €0.00 | |
| 109030258377 | HyCom1-SAFE. VALVE NF33,7/DN25 1.4404 Ra0,8 EPDM MAN. CON. | | | | | | | | €1,122.95 | |
| 109030258477 | HyCom1-SAFE. VALVE NF33,7/DN25 1.4404 Ra0,8 FKM MAN. CON. | | | | | | | | €0.00 | |
| 109030408377 | HyCom1-SAFE. VALVE NF48,3/DN40 1.4404 Ra0,8 EPDM MAN. CON. | | | | | | | | €1,271.20 | |
| 109030408477 | HyCom1-SAFE. VALVE NF48,3/DN40 1.4404 Ra0,8 FKM MAN. CON. | | | | | | | | €0.00 | |