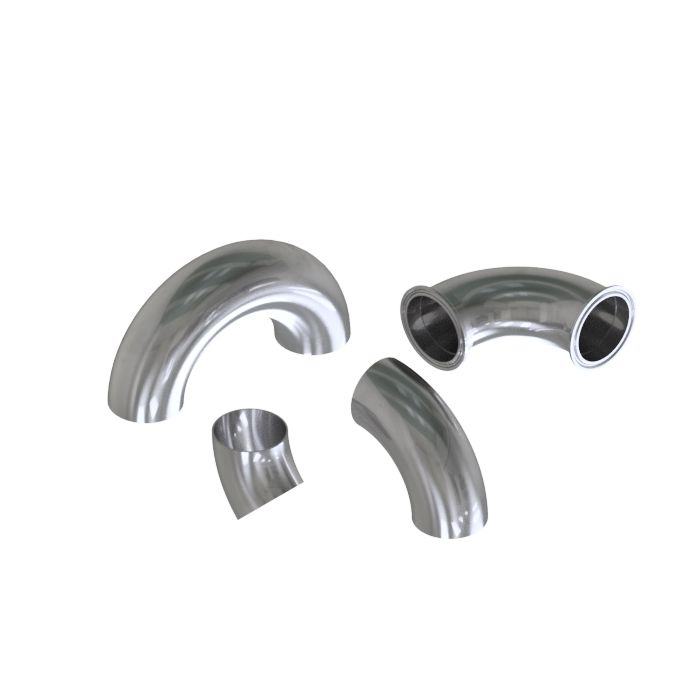 Bends
M&S pipe fittings are used for the production of hygienic piping systems in the production facilities of the food, chemical, cosmetic and pharmaceutical industries. They are used to change direction, divide the flow and transition between different diameters in a pipeline section.
For aseptic applications, fittings are available in orbital weldable design and various hygienic classes. Depending on the area of application, the operating conditions and the hygienic requirement, a suitable material and the required quality must be selected.
Usage:

Manufacture of media-carrying piping systems for production plants.
Piping and connection of machines, apparatus and containers.
Manufacture of piggable piping sections.
Construction of pipe structures, racks, railings and handrails.

| M&S Artikelnummer | Bezeichnung | DN | A | B | C | D | E | Bestand | Preis € | Aktion |
| --- | --- | --- | --- | --- | --- | --- | --- | --- | --- | --- |
| 322000101 | WELDING BEND 90 12x1,5 DN 10 304L BC POL. | | | | | | | | €5.05 | |
| 322000101001 | WELDING BEND 90 12x1,5 DN 10 304L BC MB | | | | | | | | €4.10 | |
| 322000103 | WELDING BEND 90 12x1,5 DN 10 316L BC POL. | | | | | | | | €5.85 | |
| 322000103001 | WELDING BEND 90 12x1,5 DN 10 316L BC MB | | | | | | | | €4.60 | |
| 322000151 | WELDING BEND 90 18x1,5 DN 15 304L BC POL. | | | | | | | | €5.65 | |
| 322000151001 | WELDING BEND 90 18x1,5 DN 15 304L BC MB | | | | | | | | €4.30 | |
| 322000153 | WELDING BEND 90 18x1,5 DN 15 316L BC POL. | | | | | | | | €5.90 | |
| 322000153001 | WELDING BEND 90 18x1,5 DN 15 316L BC MB | | | | | | | | €4.50 | |
| 322000201 | WELDING BEND 90 22x1,5 DN 20 304L BC POL. | | | | | | | | €5.10 | |
| 322000201001 | WELDING BEND 90 22x1,5 DN 20 304L BC MB | | | | | | | | €4.50 | |
| 322000203 | WELDING BEND 90 22x1,5 DN 20 316L BC POL. | | | | | | | | €6.05 | |
| 322000203001 | WELDING BEND 90 22x1,5 DN 20 316L BC MB | | | | | | | | €5.10 | |
| 322000251 | WELDING BEND 90 28x1,5 DN 25 304L BC POL. | | | | | | | | €7.10 | |
| 322000251001 | WELDING BEND 90 28x1,5 DN 25 304L BC MB | | | | | | | | €4.60 | |
| 322000253 | WELDING BEND 90 28x1,5 DN 25 316L BC POL. | | | | | | | | €8.60 | |
| 322000253001 | WELDING BEND 90 28x1,5 DN 25 316L BC MB | | | | | | | | €5.80 | |
| 322000321 | WELDING BEND 90 34x1,5 DN 32 304L BC POL. | | | | | | | | €8.10 | |
| 322000321001 | WELDING BEND 90 34x1,5 DN 32 304L BC MB | | | | | | | | €5.35 | |
| 322000323 | WELDING BEND 90 34x1,5 DN 32 316L BC POL. | | | | | | | | €9.65 | |
| 322000323001 | WELDING BEND 90 34x1,5 DN 32 316L BC MB | | | | | | | | €7.15 | |
| 322000401 | WELDING BEND 90 40x1,5 DN 40 304L BC POL. | | | | | | | | €8.70 | |
| 322000401001 | WELDING BEND 90 40x1,5 DN 40 304L BC MB | | | | | | | | €5.70 | |
| 322000403 | WELDING BEND 90 40x1,5 DN 40 316L BC POL. | | | | | | | | €11.00 | |
| 322000403001 | WELDING BEND 90 40x1,5 DN 40 316L BC MB | | | | | | | | €7.75 | |